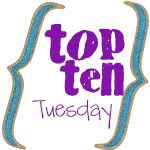 Ok, along the same lines as my recent Top Ten Tuesday posts about songs from
specific scenes
and
dance scenes
in movies... here is my list of ten songs that can't help but make me think of an
entire
movie, not just one scene they're so interconnected... Heck, some even share a name! Oh and I should clarify that these are in no particular order - I have a hard enough time coming up with ten, let alone ranking them!!
I hear Pretty Woman and I automatically think of the movie with Julia Roberts and Richard Gere.
9 to 5 I think of the movie staring Dolly Parton... hmm wonder if that's kind of a cheat when you sing the theme song and star in the movie too, because number three is
Tina Turner's We don't need another hero from Mad Max Beyond Thunderdome starring Mel Gibson, in which Tina co-starred
Ghostbusters, obviously makes me think of the same named movie.
My heart will go on by Celine Dion makes me think of Titanic with Kate Winslet and Leonardo Dicaprio
Everything I do, I do for You by Bryan Adams makes me think of Robin Hood with Kevin Costner
Men in Black may be another cheat, gosh I didn't realize there were so many until I started writing them out. hmmm.. Will Smith sang and starred in this one.
Day-oh makes me think of Beetlejuice starring Michael Keaton
Wind Beneath my Wings by Bette Midler, from the movie that she starred in with Barbara Hershey, Beaches. This movie probably wins the award for making me cry the most too!
Eye of the Tiger makes me think of Sylvester Stallone in Rocky.
Wow, I just realized that four out of my ten songs are songs where the artist starred in the movie... Which made me try and think of others and all I could think of was that awful song from The Bodyguard. The movie that starred Kevin Costner and Whitney Houston and she sang
I will always love you
. I do not like that song. I think it was really overplayed. Then I remember some country artist also sang it and I still didn't like it. So, maybe it's just the song.
However, I digress. All I wanted to point out was that in all likelihood if you're a singer and you sign on to act in a movie they're probably going to ask you to sing a song for it too!
Anyone able to add to my list??
Oh and I'm also curious to know if one of these songs in fact,
don't
make you think of this movie!?!
ok - I'm feeling guilty because of the "maybe cheats" so I'm adding a couple more...
Gangsta's Paradise by Coolio makes me think of the movie Dangerous Minds with Michelle Pfeiffer
Blaze of Glory by Bon Jovi makes me think of the movie Young Guns with all those guys in it... Emilio Esteves, Charlie Sheen, Lou Diamond Phillips and Keifer Sutherland.