We knew that there would be no grand summer vacation of 2011 for us Piché's. What with me having just returned to work and saving all my days for a surgery we weren't sure would ever come. I tried to think of some fun things we could do on the weekends... but I don't know where our weekends went?? Where has the summer gone? In the past couple weeks I've already noticed some trees changing colours! That's almost depressing...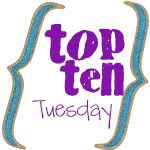 Here is my Top Ten list of things I had hoped to do with the family this summer to make it awesome. Unfortunately we didn't do any of them... dare I say it? YET.
1. go on a picnic, so many beautiful parks around
2. Calypso or Mont Cascades water park
3. Upper Canada Village
4. Montreal Biodome
5. Busker Festival
6. Any fair - no expectations were set as to which one...
7. Puppet shows in Almonte
8. Saunders Farm
9. strawberry picking
10. Sound and light show at Parliament
I'm hoping that next summer will be a little more exciting for all of us.
The possibilities are endless.
Maybe I should start my list now??